Wet 'n Wild
---
Wet 'n Wild Group Discount Tickets Available
---

---
Wet 'n Wild Group Discount Tickets Available
---

Take your Group for a Splish Splashin
good time to Wet 'n Wild Orlando!
At Orlando's most exciting waterpark Wet 'n Wild, you'll find more themed rides, more multi-person rides and more pure thrills than any other water park around. Let the lights, sounds and subliminal messages blow your mind on the Brain Wash™! Try to escape the gravitational pull as your two-person hydra capsule launches you into a deep space adventure on the Black Hole™: The Next Generation. Get your groove on as you plummet into a world of funky sounds and dancing lights on the Disco H2O™. Challenge yourself to the ultimate "free-fall" on the Bomb Bay. Enjoy pint-sized thrills in our interactive Kid's Park or enjoy the thrill of just relaxing while taking a soothing soak in the Lazy River. Open year-round with pools heated seasonally, Wet 'n Wild is the perfect place for the entire family to relax, have fun and soak up the warm Florida sun!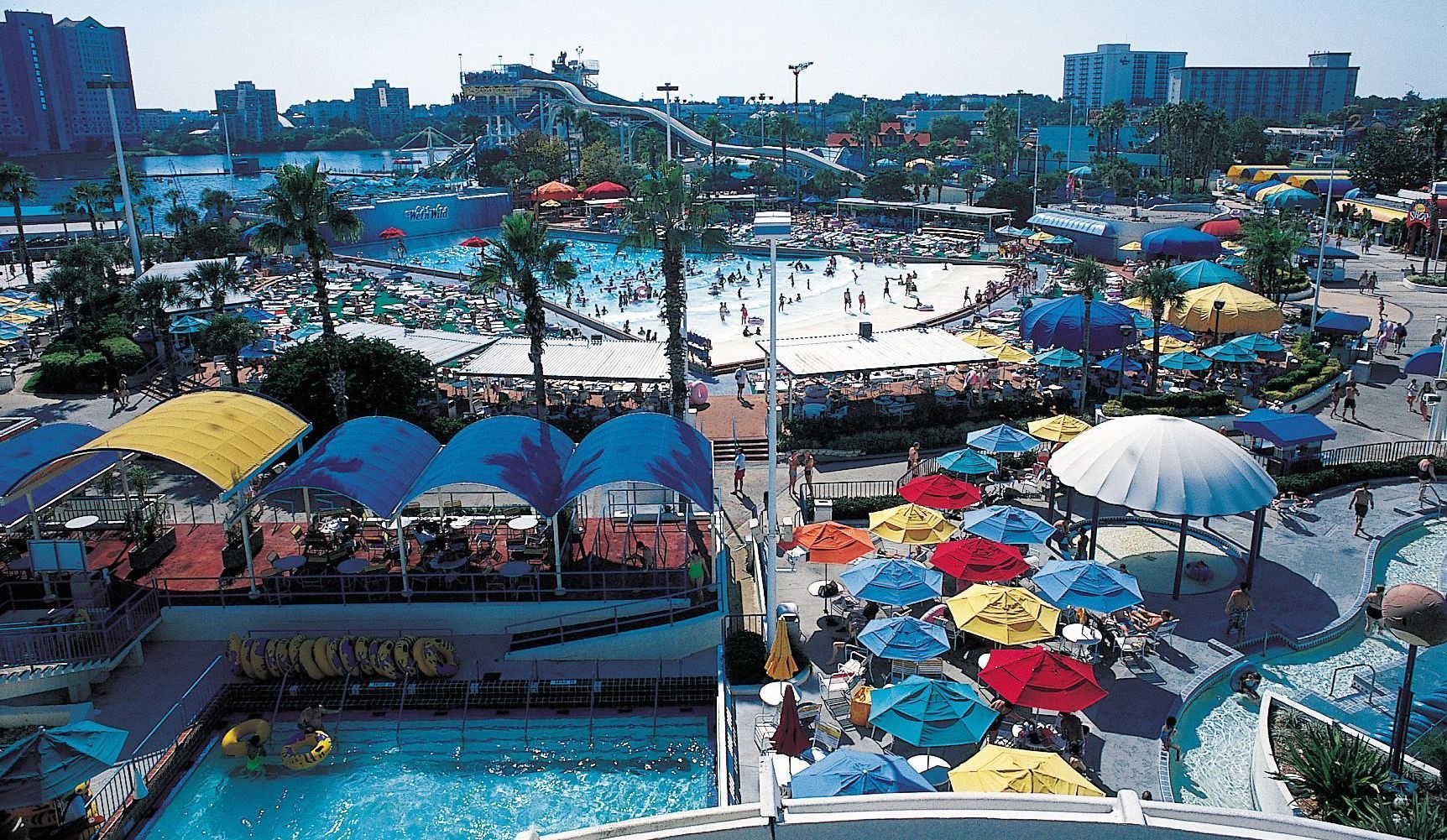 Get Group Discount Tickets
for Wet 'n Wild Orlando Water Park.
Call Orlando Group Getaways today
for Wet 'n Wild Orlando group discount ticket prices.

Group Discounts and Group Discount Tickets are available for groups of 10+



We will SAVE you TIME & MONEY! Guaranteed!

---

A 3 minute phone call will

SAVE you 15 - 40% off on tickets

.

A 3 minute phone call will

SAVE you HOURS of time searching

the net looking for the best deals and right tickets.

---

Give us 3 minutes & we will give you a FREE Gift.

you have to call to find out what the gift is :)

Call us now at We're Waiting...



Attractions & Rides

inside Wet 'n Wild Water Park

---

THE BLACK HOLE™: The Next Generation

A Wet 'n Wild classic just got better, as your two person

hydra capsule blasts off into a mysterious void featuring pulsating light, dynamic effects and

cosmic energy.




---

BRAIN WASH™

Hypnotizing water thrills await as you and your friends encounter a splashing dose of group therapy on this unique Wet 'n Wild water ride. Lose your grip on reality, but not your grip on the 2 or 4-person tube, as you climb the walls on the six-story extreme tube ride with a 53-foot vertical drop into the 65-foot domed funnel. It's mind blowing!

---

DISCO H2O™

Prepare for a trip to the funky 1970's on this Wet 'n Wild water ride. Board a four-passenger tube down an enclosed flume toward a watery disco nightclub - complete with lights, disco balls, and, of course, those groovy hits of the seventies.

---

LAZY RIVER

Escape to Florida's past on the Lazy River inside Wet 'n Wild. Replicas of old Florida boat docks, rustic

billboards and enchanting waterfalls give this long-time favorite a dramatic transformation.

---

THE BLAST

The Blaste at Wet 'n Wild is a raging ride down a ruptured pipeline that will soak you to the core!

---

THE STORM

Reach maximum speed on this Wet 'n Wild ride as you drop from an elevated chute into a giant open bowl where you spin in circles to a splash landing!

---

THE FLYER

The Flyer in Wet 'n Wild waterpark is a four-passenger, in-line toboggan adventure ride through 450-feet of thrilling, banked curves!

---

BOMB BAY

On this Wet 'n Wild favorite, prepare to enter a bomb-like capsule and feel the floor drop from beneath you as you take a heartstopping

plunge down a 76-foot high, nearly vertical slide.

---

DER STUKA

This six-story speed slide in Wet 'n Wild lets you "free fall" down a 250-foot slide, then glide to a stop

along a 115-foot water runway.

---

MACH 5

The Mach 5 in Wet 'n Wild lets you choose from three different flumes totaling 1,700 feet that twist and turn over different thrill courses ending in an abrupt splash.

---

THE SURGE

Experience this exhilarating, multi-passenger tube ride down five stories through almost

600 feet of twisting, turning, banked curves! A Wet 'n Wild classic!

---

BUBBA TUB

The Bubba Tub inside the Wet 'n Wild waterpark is a six-story, triple-dip slide with a tube big enough for the entire family!

---

SURF LAGOON

Four-foot high waves roll across this 17,000 square foot wave pool in wet 'n Wild which features a

waterfall that splashes off the back wall.

---

BUBBLE UP

A large, wet, inflated bubble made just for kids who climb, bounce and slide down into

three feet of wet and wild water.

---

KNEE SKI

A cable-operated ski lets you kneeboard like a pro around a half-mile long lake. Open May

through September, noon to dusk. Located on the lake inside Wet 'n WIld water park. Additional fee applies.

---

THE WILD ONE

Two people are simultaneously towed around the Wet 'n Wild lake on big, bouncy tubes for one

"wild" ride. Open May through September, noon to dusk. Additional fee applies.

---

WAKEBOARD

One of the fastest growing water sports is now at Wet 'n Wild! Beginners to experts

can show off their techniques on the WakeZone cableway. Open May through September, noon to dusk.

Additional fee applies.



Dining Options inside Wet 'n Wild Orlando Water Park

---

Surf Grill The main snack bar offers hamburgers, hot dogs, chicken, bbq beef sandwiches, and taco salads, some available as combo platters. Plus, don't forget our healthy choices such as vegetarian burgers, baked potatoes and salads.




Bubba's BBQ 'n Chicken Select from a wide variety of bbq plates including chicken, ribs, beef and pork - all served with fries and cole slaw. Wings, chicken tenders, and corn dogs also available.




Manny's Pizza Cheese, pepperoni or our deluxe pizza, and spaghetti with meatballs. And of course ham, italian and meatball subs.




Carnival Treats Enjoy a delicious funnel cake topped with hot fudge, apples or strawberries and whipped cream. Fresh, melt-in-you-mouth cotton candy and popcorn. Plus, twistee donuts and Ice Cream Waffle Sandwich- 2 waffles with a slab of vanilla ice cream between, covered with powdered sugar and topped with hot fudge. Not to mention tasty, foot-long corn dogs washed down with ice cold fresh squeezed lemonade.




George's Famous Ice Cream Vanilla, chocolate, and twist soft serve cones, sundaes, cookies and more! Also, try the new "Great Waffle Cone Sundae"!




Wet 'n Wild offers these beverages at concession stands throughout the park:

- Coca-Cola Beverages

- Dasani Bottled Water

- Lemonade

- Frozen Drinks

- Orange Juice

- Smoothies

- Beer (I.D. REQUIRED)

- Daiquiri's, Margarita's and Mixed Drinks available seasonally (I.D. REQUIRED).



For Group Discount Tickets
to Wet 'n Wild Orlando!
Call Orlando Group Getaways today
at

Group Discounts and Group Discount Tickets are available for groups of 10+
Your Group could Save 15 - 40% of Orlando Water Park Tickets:
Wet 'n Wild Orlando Water Park Group Discounts
Disney's Blizzard Beach Water Park Group Discounts
Disney's Typhoon Lagoon Water Park Group Discounts
Aquatica by SeaWorld Water Park Group Discounts
Groups are our Specialty!

---

Youth Groups. Church Groups. Sports Groups. Bands. Choirs. Educational Groups.

Boy Scouts. Girl Scouts. College Groups. Corporate Groups. Family Reunions.

School Field Trips. Cheer Squads. Marching Bands. Choral Groups.

---

If you have a group - it's Orlando Group Getaways for group discounts!

Call us at: 407-595-9551

email us at: groups@orlando-group-getaways.com

or we will contact you at: contact request