Pirate's Dinner Adventure
---
Pirates Dinner Adventure Group Discount Tickets
---

---
Pirates Dinner Adventure Group Discount Tickets
---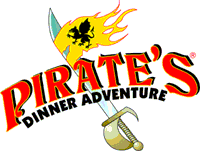 Well, Shiver Me Timbers!
Groups of all ages Chart Course for
Orlando's most Interactive Dinner Show Experience,
Pirate's Dinner Adventure!
Celebrating more than 11 years of pillaging, plundering, and performing for audiences from around the world, the Orlando, Florida, attraction offers the world's most interactive dinner show experience. Each night, over one hundred guests are invited to participate in the show. Lads, lasses and scallywags of all ages don costumes to bring the adventure to life.

Ahoy Mates! Get ye Crew together
for a Swashbuckling Good Time at
Pirate's Dinner Adventure!
Call Orlando Group Getaways for your
Group Discounts and Dinner Show Reservations
at


We be lookin' forward ta havin'n dealin's with ye.
Your Group could SAVE up to 40% off on tickets
for Pirates Dinner Adventure Show.



---

Pre-Show Celebration

Take pictures with pirates and be served an array of appetizers.

Assorted salads, roasted pork and special sauces.

---

Port of Call Feast

is included with your Pirate's Dinner Adventure show ticket.

Choose from the following menus options:

Treasure's Chicken

Pillager's Pork

Captain's Seafood Medley

Vegetarian Meals

Captain Kids Chicken Fingers

---




All Pirate Dinner Feasts are served with Carrbbean Rice and Roasted Red Potatoes




Enjoy a Tossed Garden Fresh Salad and Homemade Creamy Vegetable Soup with your entree.




Dessert is a choice of Princess Anita's Apple Cobbler a la mode or Mr. Magee's Favorite Dessert.




Two rounds of beer or soft drinks and coffee during the main show. Cash bar available all other times.

---

Buccaneer Bash Dance Party After the Show!

Dance the night away at the 70's style disco party.

Featuring a DJ, sound and special effects system, and dancing to a wide variety of music, from classic tunes to current hits. Meet the stars of the Pirate's Dinner Show

and "get up close and personal" with the cast for photos and autographs.

---

The Pirate's Dinner Adventure VIP Experience includes FRONT ROW seating,
access to the Govenor's VIP Lounge, complete with upgraded appetizers,
a full-service bar, and photo opportunities with a cast member.
ASK about Pirate's Dinner Adventure VIP Experience Upgrades for your Group.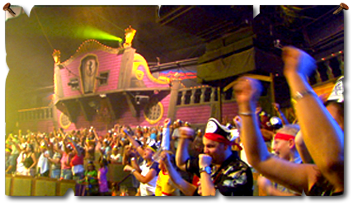 A Swaggering Good Time for any Group!
Pirate's Dinner Adventure
Group Discount Tickets and VIP Experiences!
Call Orlando Group Getaways
for your Group Discounts
and Dinner Show Reservations
at

Group Discounts and Group Discount Tickets are available for groups of 10+
| | | |
| --- | --- | --- |
| | Yo ho, yo ho, a pirate's show for me. | |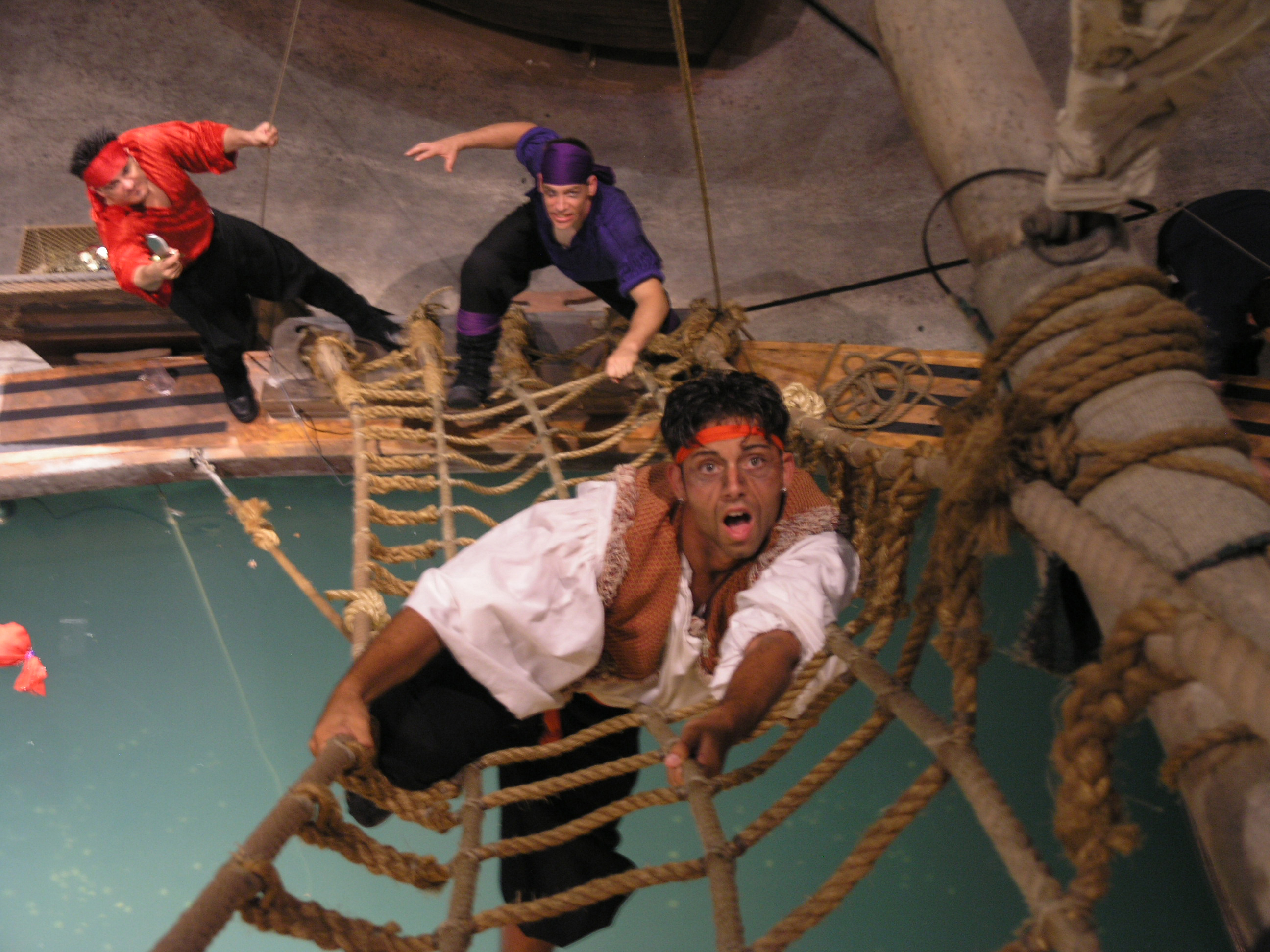 Thrills, Excitement and Laughter Abound!
The attraction features an astonishing display of special effects wizardry combined with amazing aerial artistry, swashbuckling swordplay and dynamic duels. The one-of-a-kind show is staged on a full-sized authentic replica of an 18thCentury Spanish galleon afloat in a 300,000-gallon lagoon. Daredevil pirates dangle from 50 and 70-foot tall masts, delighting the 825 voyagers in tiered seating - each with the best seat in the house due to the theater-in-round design.
At Pirate's Dinner Adventure, guests time-travel to the 1800's when pirates ruled the high seas and a man's wealth was determined by the swiftness of his sword. Visiting the King's Festival in the old seaport village, voyagers feast on a mouthwatering assortment of hors d'oeuvres served in honor of the King's daughter, Princess Anita. Colorful entertainment abounds as Raddo - the Gypsy King and his exotic assortment of gypsy dancers and acrobats, vie for our guests' attention.
But, arggg! The merriment subsides when something goes terribly wrong: a band of wayward pirates descend upon the village to pillage and plunder, prompting a fierce swordfight which ends with Captain Sebastian Black kidnapping not only the beautiful Princess Anita, but every single one of the King's guests as well.
With a crack of lightning and a jolt of thunder, a classic story of good versus evil unfolds. Under the sign of the skull and cross-bones flying high on the four-story sail of the mighty ship, voyagers can only hope that the love of the beautiful princess will change the handsome pirate from his dark ways.
Pirate's Dinner Adventure Show
Group Discount Tickets and VIP Experiences!
Call Orlando Group Getaways
for your Group Discounts
and Dinner Show Reservations
at

Group Discounts and Group Discount Tickets are available for groups of 10+
Your Group could Save 15 - 40% off gate prices on
Orlando Dinner Show Tickets:
Medieval Times Dinner Show Group Discounts
Pirates Dinner Adventure Dinner Show Group Discounts
Arabian Nights Dinner Show Group Discount Tickets
Groups are our Specialty!

---

Youth Groups. Church Groups. Sports Groups. Bands. Choirs. Educational Groups.

Boy Scouts. Girl Scouts. College Groups. Corporate Groups. Family Reunions.

School Field Trips. Cheer Squads. Marching Bands. Choral Groups.

---

If you have a group - it's Orlando Group Getaways for group discounts!

Call us at: 407-595-9551

email us at: groups@orlando-group-getaways.com

or we will contact you at: contact request